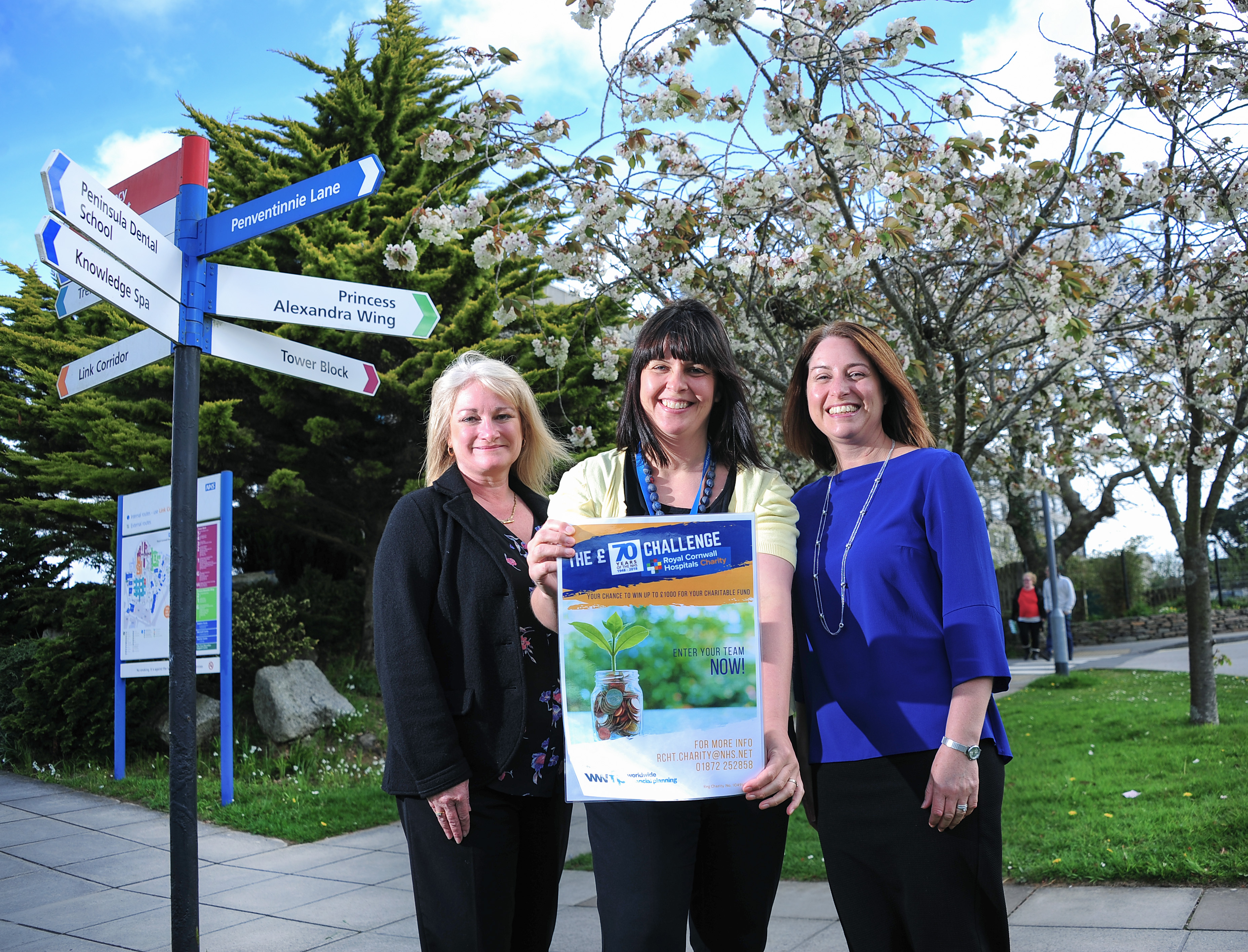 What could you do with £70? This is the challenge being thrown down by a charity to the Cornish community.
Royal Cornwall Hospitals Charity in partnership with Worldwide Financial Planning (WWFP) have launched The £70 Challenge in celebration of the 70th birthday of the NHS on the 5th July. The charity, which provides funding for additional equipment, facilities and training in areas across the Trust, are seeking seven teams to take part with entries now open.
The selected teams will be given the £70 starting investment on the 5th July and will have 70 days to use all of their entrepreneurial flare to make profit and then reinvest their gains in a bid to raise the most and make it to the top spot.
"We are expecting some really inventive fundraising activity from the teams! Teams might start with a cake, table top sale or sponsored walk, but by reinvesting their profits who knows how ambitious the fundraising will become. This is a real chance to draw on the talents of team members and maybe even create a local media masterpiece! The great thing is that all of the money raised will benefit a local charity with a direct impact on patient care," said Karen Murrish, Fundraising Manager, Royal Cornwall Hospitals Charity.
Worldwide Financial Planning, also celebrating their landmark birthday of 20 years, are supporting the challenge financially and with their renowned entrepreneurship.
"Fund raising, whilst essential, can be pedestrian, but our team will ensure this will be fantastic fun and raise valuable funds to help make the NHS financial world spin for the local community's benefit," said Peter McGahan, WWFP CEO.
It was a natural partnership between WWFP and the Royal Cornwall Hospitals Charity with so many of its staff in the Truro based office having a direct experience of the care provided by the hospitals.
Nicole Martin, one of the company's Independent Financial Advisers, explains her connection with the Royal Cornwall Hospital and her desire to support the initiative,
"My brother was cared for on the Phoenix Ward following a stroke so I know first-hand what a wonderful facility we have here in Cornwall. It is really fulfilling for me to personally be involved in the £70 Challenge and to know exactly where the funds will be going."
Nicole will be joined by Lynne Williams, also of WWFP, to support the participating teams with their fundraising activities offering advice and ideas on how to reinvest and grow their profits.
"Nicole and I have already sat with some of our experts at Worldwide, and we have some amazing ideas already up our sleeve to share with the teams who take part. The most zany ideas are often the best. It's a privilege for me to be involved with the teams who work so tirelessly day in day out, to be able to give something back.
This is an opportunity to do some real good and improve the experience of so many people –with the bonus of having fun at the same time!" added Lynne.
The £70 Challenge is open to staff from across the three sites of the Royal Cornwall Hospitals Trust and also to the wider community.
"If you would like to raise funds for an area supported by Royal Cornwall Hospitals Charity in this fun and exciting challenge then we would love to receive your team entry. Local community groups, schools, businesses are all welcome. Local businesses can also get involved by supporting one of the teams taking part. It's going to be a fun 70 days!" Said Karen Murrish.
Anyone interested in entering or supporting a team is asked to contact Royal Cornwall Hospitals Charity RCHT.Charity@nhs.net 01872 252858.